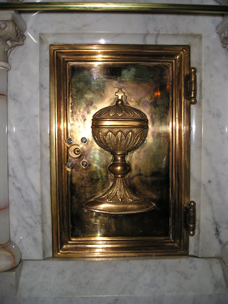 Adoration of the Blessed Sacrament
Why is Eucharistic Adoration important?

I encourage Christians regularly to visit Christ present in the Blessed Sacrament, for we are all called to abide in the presence of God. In contemplation, Christians will perceive ever more profoundly the mystery at the heart of Christian life. . . . I urge priests, religious, and lay people to continue and redouble their efforts to teach the younger generations the meaning and value of Eucharistic adoration and devotion. How will young people be able to know the Lord if they are not introduced to the mystery of His presence? Like the young Samuel, by learning the words of the prayer of the heart, they will be closer to the Lord, who will accompany them in their spiritual and human growth. The Eucharistic mystery is in fact the "summit of evangelization" (Lumen Gentium) for it is the most eminent testimony to Christ's resurrection.
Pope John Paul II
Since 1995 St. Francis of Assisi Catholic Church has been committed to the adoration of the Blessed Sacrament outside Mass. The current schedule for the adoration chapel is as follows:
| | |
| --- | --- |
| Sunday | 1 p.m. to Midnight |
| Monday | 1 p.m. to Midnight |
| Tuesday | 6 p.m. to Midnight |
| Wednesday | 1 p.m. to Midnight |
| Thursday | 1 p.m. to Midnight |
| Friday | 1 p.m. to Midnight |
| Saturday | 6 p.m. to Midnight |
Participants are always welcome. For more information (including hours for inclement weather) or to sign up for an hour, contact Greg Ridenour, phone 540-294-1266.