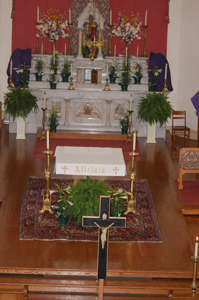 Members of the various altar and church care committees help to beautify the church for Sundays and major feastdays
Ministries: Altar and Church Care
To contact the coordinator of each ministry listed below, login to (or sign up for) Flocknote. Contact information is also available from the parish office by email or phone at 540-886-2262.
Includes the following specific ministries:
Altar Guild: Teams spruce up the church for weekend liturgies by light dusting, filling holy water fonts, straightening hymnals on Friday or Saturday 4 to 6 times each year. Men, women, couples, and teens are welcome, even families with helpful kids. It is a very practical, vital ministry. Ministry Coordinators: Shelley Haug.
Linen Care: Volunteers perform the much-needed task of washing and ironing purificators and other small cloths used at Mass; the work can be done during the week at home at your convenience. Ministry Coordinator: Marge Cantwell.
Flower Committee: Teams arrange and maintain flowers on the altar and in the church according to liturgical guidelines. This committee can always use extra hands for Easter and Christmas seasons to help make the church beautiful and inviting. Members do not need to know how to arrange flowers to participate. Ten more monthly members would be helpful. Ministry Coordinator: Crystal Misiak. Read more about duties

The purpose of the Flower Committee is to coordinate and conduct the flower ministry of the church. Our mission is to provide support to our pastor, focusing on the beautification of the altar, in conjunction with other parish groups and within liturgical guidelines. We support the mission of our church through our love, labor, and prayers for all who participate in the body of Christ, which comes to us on the altar and draws us all together.

Volunteers are asked to commit to one month of their choice to be responsible for altar arrangements. Other commitments may include:

Set up for Christmas on the morning of December 24.
Remove Christmas decorations after Mass on the 2nd Sunday after Christmas.
Set up for Easter on the Saturday morning before Easter.
Remove Easter decorations on the 2nd Sunday after Easter.

Specific responsibilities of the Flower Committee:

Insure that floral arrangements (dried or fresh) and/or greenery are provided for Masses.
Plan for and place decorations and flowers in the church on special occasions such as Christmas and Easter and any other Pastor-approved holiday observances.
Plan for and place seasonal decorations and flowers elsewhere in and around the church as needed.
Place and maintain seasonal items (e.g., Advent wreath, Nativity set, Christmas trees, etc.).
Procure, place, and maintain seasonal floral displays (e.g., poinsettias, Easter lilies, and Lenten pieces).

General responsibilities:

Ensure that flower arrangements and decorations are in good taste and appropriate for a Catholic Church setting.
Hold liturgical consultation as needed with the Pastor and Deacons.
Assume responsibility for removing and storing seasonal decorations on a schedule consistent with the calendar and traditional time frames.
Maintain the decoration and artificial flower storage area, replacing supplies and material as needed.
Communicate with the church secretary about arrangements being placed on the altar for funerals and weddings (Church secretary in turn will alert the committee when flowers from funerals or weddings will remain for church use).
Communicate with Altar Guild about the watering and/or removal of fresh floral arrangements from funerals or weddings.