Staff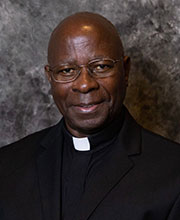 Pastor: The Rev. Matthias Lusembo. E-Mail: [email protected], Private Phone: 540-886-9121.

Born in 1953 in Lugonza, Uganda, Fr. Lusembo grew up on a farm. After attending high school seminary, he was ordained a deacon in Germany in 1980 and a priest in Uganda on January 18, 1981. He taught philosophy and social sciences for 21 years, then served as Vice-Rector of Katigonda National Major Seminary for eight years and then as Rector for nine years. He has served in the United States since 2008, eleven of those years as pastor of Christ the King Parish in Norfolk, Virginia. He was named pastor of St. Francis in July 2021.
---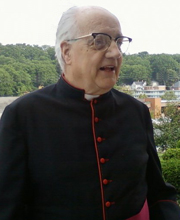 Retired Priest: The Rev. Monsignor Andrew Cassin. E-Mail: [email protected]

A native of Ireland ordained priest in 1954, Msgr. Andrew Cassin was pastor of St. Peter's Parish in Waldorf, Maryland (a parish of the Archdiocese of Washington), from January 1990 to his retirement on January 9, 2000. His decade at St. Peter's was a busy one: he completed an addition to the school, refurbished the sanctuary, designed and installed the stained-glass windows, and just a month before his retirement, erected the church steeple. In the spring of 2001, when Fr. John Abe was pastor at St. Francis, Msgr. Cassin happened to be visiting friends in Highland County and came to Staunton for Mass. Once the pastor learned the visitor was a priest (Msgr. Cassin could not resist commenting favorably on the liturgy as celebrated at St. Francis), that was the end of his casual visits to the Shenandoah Valley. Before much time had passed, he assumed a position as assisting priest, celebrating Mass regularly, hearing confessions, and teaching Christian education classes for young people. Now retired from active ministry, he remains a beloved part of the parish.
---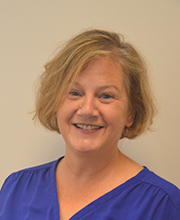 Office Administrator: Nancy Hanna. E-Mail: [email protected]

Nancy Hanna has been a member of St. Francis since 1993, singing in the choir, participating in the Haiti Outreach Ministry (including a trip to Haiti), serving two terms on Parish Council, and currently heading the Hospitality Ministry. Her husband, Shawn, joined the Catholic Church at the Easter Vigil in 1994, and they settled in Staunton in 2001. As of May 2019, she joined the staff at St. Francis and is very happy to be serving the parish; in 2023 she was named Office Administrator.
---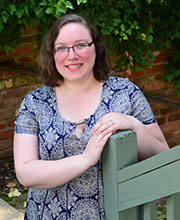 Religious Education Leader: Amanda Hayes. E-Mail: [email protected]

Amanda moved with her family from New York to Virginia in 1996, also joining St. Francis Parish at that time. She attended Guardian Angel Academy, graduating in 2007 with a class of nine total students. She was excited to join the Parish Choir around age 13 and was a regular choir member for over 12 years. After serving as office assistant at St. Francis for several years, she assumed the position of secretary in August 2016, and in 2023 was named Religious Education Leader. On July 31, 2020, she married her wonderful husband, Tim, in a ceremony at Blessed Sacrament Church in Harrisonburg, Virginia, celebrated by one of her graduating classmates, Fr. James Waalkes.
---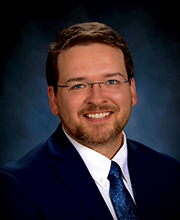 Director of Music: Benjamin Geier. E-Mail: [email protected]

Dr. Benjamin Geier is thrilled to be heading the sacred music program at St Francis of Assisi. As director, educator, and vocalist, he has received high praise as a compelling, passionate, and insightful collaborator who inspires performers and audiences alike. Dr. Geier has performed internationally in China, Latin America, Europe, and throughout the United States and Canada. Most notably, Geier was a frequent soloist and collaborator with the Grammy award-winning Houston Chamber Choir. Of his most recent performance of Monteverdi's Vespro della Beata Vergine, The Bloomington Herald Times said, "Most prominent amongst the soloists was Geier, who lent his ringing voice and artistic passion; he was splendid." Benjamin has earned a reputation for having a special ability to develop comprehensive music programs in primary and secondary institutions focusing on high-caliber vocal technique, traditional choral repertoire, rigorous musical training, and educating youth on the richness of the Western fine arts tradition. Dr. Geier holds degrees in Choral Conducting and Vocal Performance from the Jacobs School of Music at Indiana University and is an avid performer and supporter of early music. Email Dr. Geier for more information regarding choirs, lessons, and youth events.

Read more about opportunities
Currently we have the following opportunities:
7:15 Men's Schola (all men and boys)
8:30 Choir
11:30 Choir
Madrigals Choir
Children's Choir (1-4th grades) and (5-8th grades) serving the 12 noon school Mass on Fridays
Youth Group
Private Piano, Voice, Drum lessons ($25/30minutes)
---
Bookkeeper: Ellen Markham. E-Mail: [email protected]

Ellen Markham was named full time bookkeeper, effective July 1, 2022. Graduating from Radford University with a B.S. Degree in Accounting, she has had many experiences using her degree, including gift shop manager at St. John the Apostle in Virginia Beach and also bookkeeper at Blessed Sacrament in Harrisonburg. She has been a member of St. Francis Parish since 2016, moving to Staunton from Virginia Beach. Ellen met and married her husband John in Northern Virginia, and they have been married for 40 years, raising 4 children and having been blessed with 4 grandchildren. It is truly an honor to be a part of the St. Francis Parish staff, and she looks forward to meeting and serving all our parishioners.
---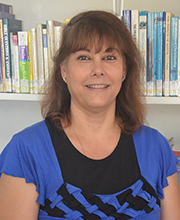 Librarian: Cindy Little. E-Mail: [email protected]

Cindy relocated back to the Staunton area 20 years ago to be closer to family. She has been a parishioner at St. Francis ever since. She enjoys being part of such a wonderful parish and community. She has been the Church Librarian since 2017.
---