MASS SCHEDULE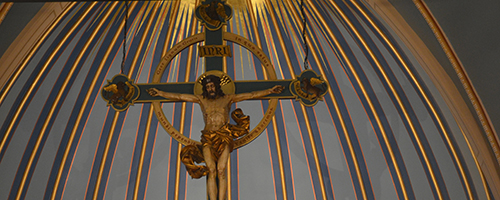 Regular schedule for Mass at St. Francis Church:
Weekends: Vigil Mass on Saturdays at 5 p.m., Mass on Sundays at 7, 8:30, and 11:30 a.m.
Weekdays: Mass on Tuesday at 5:30 p.m., Wednesday at 7 a.m., Thursday and Friday at 12 noon, First Saturday at 10 a.m.
In addition, the Sacrament of Reconciliation takes place on Tuesdays from 4:00 to 5:15 p.m. and on Saturdays from 3:30 to 4:45 p.m.
Check the specific schedule for the current week on the website.
CORPUS CHRISTI PROCESSION ON JUNE 11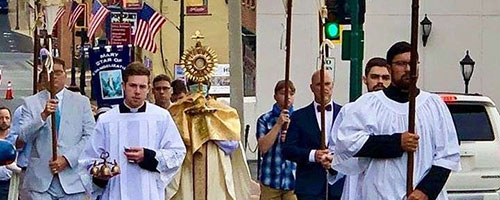 The annual St. Francis Corpus Christi procession will take place on Sunday, June 11, following the 8:30 Mass. All are invited to participate in this proclamation of our faith in the real presence of Jesus in the Blessed Sacrament. Benediction follows in the church. This marks the 20th anniversary of the procession at St. Francis.
INTERIOR RENOVATION OF ST. FRANCIS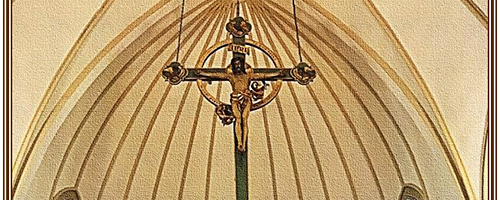 It has been over 30 years since the inside of our beautiful church has been renovated, and your gift will enable us to restore and reimagine a church interior that maintains the focus on Our Lord Jesus and His Sacraments. This will be a renovation that fixes problems caused by walls' deteriorations a few years back, long-ago created problems based on previous modifications, and long-term wear and tear associated with age. Floors and walls, plaster and paint, lighting and sound, better accessibility and better use of the existing space we already have are important parts of this transforming campaign.
Your gift gives us an exciting possibility to move forward as a parish. One-time gifts or pledges for a 3- or 5-year period are welcome and can be made at this site.
WELCOME TO ST. FRANCIS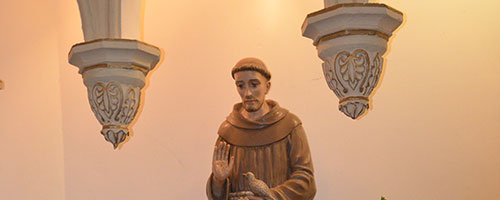 We offer a special welcome to visitors to this site and invite you to learn more about St. Francis Parish. There are several ways to stay in touch with what is going on in the parish:
YOUTH GROUP MEETINGS
Youth Night is held on Tuesdays following the 5:30 p.m. Mass. All high school students are invited to join Dr. Geier in Columbian Hall for an informational meeting about youth group. The theme for this year is: Salvation, Service, and Sung Prayer. For more information, please feel free to email youth@stfrancisparish.org.
LEGACY GIFTS TO A PARISH...AND A FREE WILL AS WELL
Legacy gifts reveal our faith to our community as a witness of God's great love for us. The Catholic Community Foundation of the Diocese of Richmond is excited about its partnership with FreeWill and the valuable legacy giving resources they provide for parishes, schools, and campus ministries. Through these resources, including an online Will platform, the Foundation can ensure that all practicing Catholics have an updated Will with a parish, school, and/or ministry named as a beneficiary or beneficiaries.
In August, the CCF raised $1,366,000 in bequests through FreeWill for parishes and schools using FreeWill! Parishioners across the diocese used FreeWill's platform to create their Will and named their parish and/or a school as a beneficiary. As of December 31, there were $12,000,000 in bequests through FreeWill. No one imagined just how many people would use the FreeWill platform to create their Will. It really is a testament to the statistic that more than 67% of Americans do not have a Will.
Find out more at the website.
CD FROM DIRECTOR OF MUSIC
Dr. Ben Geier, new Director of Music at St. Francis, has put together a CD especially for our parish as a personal introduction and to celebrate Christmastide in a special way. The CD is offered as a gift, but a donation of $10 to our Music Ministry Fund is most welcome as we expand and enhance the ministry. These CDs can be found in the vestibule of the church. For more information, please call the parish office or email Dr. Geier at music@stfrancisparish.org.
ADULT FAITH FORMATION
Adult Faith Formation meets at 10 a.m. in Assisi Hall each Sunday. All adults are invited to use this opportunity to deepen their knowledge of the Catholic faith.
MORNING PRAYER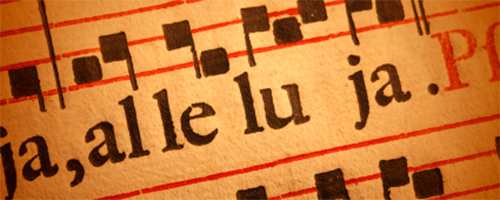 The St. Francis Schola leads the office of Morning Prayer, including beautiful, contemplative psalm melodies, every Thursday at 7 a.m. in the church. Parishioners are invited to start the day off with the official prayers of the universal Church.