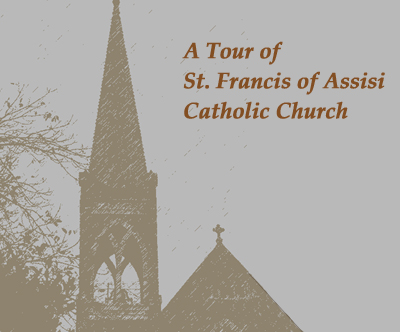 The original text describing the interior of St. Francis of Assisi Church was prepared by the Reverend John A. Abe (pastor 1989-2005) to help visitors appreciate the distinctive Gothic revival architecture, stained glass windows, various church furnishings, and the liturgical excellence of St. Francis Church.
In honor of the sesquicentennial celebration (1995), the discussion of the historic and artistic value of the building and furnishings was expanded in June 1994 by Sara Nair James, Professor of Art History at Mary Baldwin College. Dr. James, who completed her graduate studies at the University of Virginia, specializes in Medieval and Renaissance Art and Architecture and in Christian iconography.
This guide to St. Francis is included in A History of St. Francis of Assisi Parish, Staunton, Virginia, Celebrating 150 Years, 1845-1995 by Hampton H. Hairfield, Jr., Elizabeth M. Hairfield, and Jane F. Smith.
Click on the arrow near the top of the page or use the menu on the right to begin the tour of the church.