Part 2: The Founding of St. Francis, 1845*
Father Daniel Downey Gets a Parish Started
With the increased Catholic population the need for a Diocese of Virginia separate from Maryland finally became evident. Archbishop Samuel Eccleston of Baltimore brought the matter to the attention of Rome. The Diocese, which included the entire Commonwealth of Virginia, was established in 1820. Archbishop Eccleston also consecrated the first permanent Bishop of Richmond, the Reverend Richard V. Whelan of Harper's Ferry. As Bishop of Richmond, Father Whelan continued the missionary emphasis of the Bishop of Baltimore. Bishop Whelan made Lynchburg a pastorate and Staunton, Lexington, Harrisonburg, and Charlottesville were its missions. The Reverend Daniel Downey, D.D., a native of Ireland and a Passionist priest, was assigned this charge, which often required him to travel more than three hundred miles at a time. Considered intelligent, sociable, generous, and warm, he was a counselor to the Irish laborers who were building the railroads and other public works. He intervened in their occasional riots and possibly saved many lives and much damage to property. This very energetic and devout priest can be credited with much of the development of Catholicism west of the Blue Ridge Mountains in Virginia.
Even though there were less than a dozen Catholics in Staunton in 1841, Father Downey brought the group together to celebrate Mass in the brick home of Michael Quinlan on Water Street (now Central Avenue). Although very little has previously been written about the life of Mr. Quinlan, official church and court records shed much light on his origin, focused approach to achieve his goals, care for his family, and dedication to his Catholic faith. He was born in 1795 in Thurles, County Tipperary, Ireland, and came to the United States in 1816. A tailor, he spent a year in Washington, D.C., and then joined the movement West, settling in 1820 in Kanawha County (Charleston, West Virginia). About ten years later he came to Staunton; he married Nancy Tally in 1830 and began purchasing real estate and agricultural property in 1832. Although he could neither read nor write, he was very fluent verbally as seen in the wording of his official documents. He became a man of considerable means; by the time of his death he owned sixteen slaves and several pieces of property including five stores, twenty-two acres of land along the Valley Turnpike, and another five acres near town.
Although Augusta County produced wheat, corn, hay, and oats in abundance, Staunton at this time was shabby and unattractive. According to Waddell (Waddell, pp. 421-428), most sidewalks were unpaved and pedestrians floundered in the mire at almost every step. There were three churches—Episcopal, Presbyterian, and Methodist—all equally plain. The town was a watering hole on the route West, however, and so boasted four taverns. All the churches and all the taverns had bells; the church bells tolled for services and funerals, while the tavern bells announced the meal times. Water pipes had, however, been laid to bring water to the town and the Western Lunatic Asylum. Cyrus McCormick had just exhibited his reaper, and the Institution for the Deaf and Dumb and the Blind had recently opened. The stage was set for the development of Staunton.
By 1845 a local census of the city included 2,456 individuals, 638 slaves, and 52 free Negroes. Bishop Whelan raised Staunton to a pastorate with Father Downey as pastor. Due to the large number of Catholics in Wheeling, Bishop Whelan succeeded in having Rome establish the Diocese of Wheeling to serve Catholics west of the Alleghenies. In 1850 he became Bishop of Wheeling and the Rt. Rev. John McGill became Bishop of Richmond.
When he first became pastor, Father Downey boarded with Peter Crickard, an Irish farmer, and his family. In addition to serving Staunton, Father Downey retained Lexington, Harrisonburg, and Charlottesville as missions. He also visited other stations, including a large congregation at Mountain Top (Rockfish Gap). During the 1850s, while a tunnel was being cut through the Blue Ridge Mountains, a temporary railroad track ran over the pass. The congregation consisted of laborers employed by the railroad and their families. Father Downey had a chapel of plank erected for their use.
A large influx of immigrants from Ireland settled in the Shenandoah Valley in the 1840s. They were builders of the railroads, tradesmen of varied skills, farmers, and entrepreneurs in the region's commercial prosperity. A railroad through the Blue Ridge was needed to get the produce of the Valley to Richmond. Tunneling the Blue Ridge for the Central Virginia Railroad was a momentous undertaking, and "Irishmen from Cork" were hired for this task.
The railroad changed Staunton from a rural village into a bustling center of commerce. As a result the Catholic population grew, and the Staunton congregation was ready for its own church. On July 19, 1849, Mr. Michael Quinlan deeded a parcel of land to the Right Reverend R. V. Whelan, Bishop of Richmond, and his successors for the erection of a large church. The parcel was about an acre in size and extended from Augusta Street to New Street; it was attached along its southern edge to the rectory of the Episcopal Church and along its northern edge to the lot belonging to William Carrol's heirs. In the deed Quinlan stipulated that the church was to be not less than sixty by forty feet and was to be completed for use within the space of three years. If these conditions were not fulfilled, the agreement would become null and void. The sum of one dollar was paid to Mr. Quinlan for this land.
Quinlan died in Staunton on May 26, 1850, at the age of fifty-six, after a protracted illness. He was buried in Trinity churchyard next to his wife, who preceded him in death on February 23, 1849; she died of consumption at age thirty-six. Quinlan had written his will on his deathbed, leaving all of his possessions to his six children and appointing Bishop Whelan as guardian. Father Downey witnessed the will.
One of Michael's kinsmen who immigrated to the valley was Timothy Quinlan, a farmer and stone mason in Rockingham County. Born on March 17, 1828, in County Limerick, Ireland, he immigrated first to Pennsylvania, then to Virginia, where he became known especially for his unshakable faith. He sent his only daughter, Mary Agnes Quinlan, to board in Staunton so she could be taught by the Daughters of Charity at St. Francis School. Timothy died in 1886.
Timothy's great grand-daughter, Dolores Quinlan Phalen, married to Waller C. Lescure, is a member of St. Francis parish.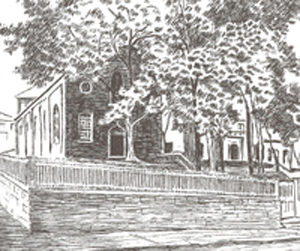 The first St. Francis Church, 1851 (illustration by Ulysse Desportes)
The Staunton church was named St. Francis of Assisi. The church was sixty-five by forty feet and was paid for by Father Downey. He had also built and paid for a church at his previous pastorate in Lynchburg. St. Francis Church was brick, of Southern Colonial style with green shutters, large double windows, and a white picket fence. The inside was classic revival and was heated by two wood stoves. It was finished in time for the May 13, 1851, marriage of Robert Knightly and Joanna Moran, which event was solemnized with a Nuptial Mass. The church was dedicated in May 1851 by Bishop McGill.
On August 17, 1851, Bishop McGill travelled from Richmond to confirm twenty-five Catholics in St. Francis Church. The Sacrament of Confirmation was administered to nine boys and sixteen girls. In 1856 Father Downey also established a school, which continued until the 1970s.
On December 12, 1857, an event occurred that changed Father Downey's life. The Richmond Daily Dispatch, the Staunton Spectator, and the Staunton Vindicator all chronicled this event. William Mullen, an industrious and respected stonecutter from Ireland, was found dead on the sidewalk in front of Father Downey's house. Six months earlier Father Downey had purchased this house on Augusta Street opposite the church. He had employed as housekeeper an Irish orphan who was recommended to him by a friend in Richmond. Unknown to Father Downey, the housekeeper Margaret Leigh had been seduced by William Mullen, who had promised to marry her, and she was now pregnant. When her predicament became known to the priest, he insisted that the marriage immediately take place. Mullen was at Downey's home with Downey; Margaret Leigh, Peter Crickard's wife, and two friends who had accompanied Mullen were in another room. They heard a pistol shot, went in and found the Irishman dying. Father Downey was lying on the floor in a stupor with a bruise on his forehead. Father Downey and the four witnesses in the house were put in jail. The next day at the hearing Father Downey confessed to the shooting but said it was an accident. The trial, which was held in June, ended in a hung jury.
An interesting fact uncovered at this trial was that the deceased had a wife living in Baltimore from whom he had separated. A second trial was scheduled for November. Because only nineteen unbiased jurors could be found in Augusta County, jurors for the pool were sought from Albemarle County. This second trial ended in a verdict of second degree murder, and on Nov. 15, 1858, Father Downey was sentenced to eight years in the penitentiary. At the request of Father Downey's lawyer, however, the judge reviewed the case and ordered a new trial. The third trial commenced on Feb. 9, 1859. The prisoner was in poor health and fainted during the proceedings. This trial also resulted in a hung jury and a new trial was scheduled for May.
Because of the difficulty encountered in obtaining suitable jurors the fourth trial was held in Charlottesville: the jury acquitted Dr. Downey by reason of self-defense. After about a year and a half in jail, he was finally free. A large audience in the Court House showed its gratification by an outburst of applause. This ended an event that attracted the attention of many people in the community, as well as throughout the nation, especially as it was uncommon at that time for another trial to be held after a verdict had been given. A special booklet was printed summarizing the proceedings of the trial and sold for twenty-five cents.
However, in 1858 Bishop McGill had suspended Dr. Downey from the priesthood because he had a gun and was reported to have been drunk at the time of this incident. In spite of the acquittal Bishop McGill's suspension remained in effect unless the former priest was willing to go to Rome for rehabilitation. Dr. Downey refused because he believed that the Bishop's support of the Confederacy in war against the Union was a greater crime than his and wrote the Bishop to this effect.
In spite of his dispute with the Bishop, Dr. Downey continued to serve the community of Staunton well. When the Staunton Public Free Schools opened in 1870, Dr. Downey took a position at the Lara and Timberlake School. He was paid fifty dollars a month. He was promoted to assistant principal (no increase in salary) for the year 1872-1873, after which he retired. He died from a hemorrhage on August 17, 1874, at age seventy-two. According to records at Hamrick Funeral Home, made available by Mr. Thomas Hamrick, he was placed in a full glass casket with satin trim provided by J. A. and Y. M. Bickle, cabinet makers and undertakers. The casket cost $150 and was very expensive for that time. After a Catholic funeral on September 8, he was buried in Thornrose Cemetery. He obviously always considered himself a preacher, as evidenced by this vocation being listed in his death record. He left $200 to his brother in County Down, Ireland, and the rest of his estate, including his vestments, to his housekeeper Hannah Lowther. She died on June 23, 1923, and was buried in the same plot as Dr. Downey. From her estate she designated $1000 for the erection of a monument in memory of Father Downey and herself and an additional $100 for the perpetual care of the plot. Miss Lowther also left five hundred dollars to Sister Ann, a teacher at St. Francis School.
The Very Reverend Henry F. Parke, a contemporary of Downey, said: "The time devoted to the advancement of the Virginia missions by the Reverend Daniel Downey covered seventeen of the most trying and arduous years, perhaps, known in Virginia church annals. As a man and scholar, Dr. Downey easily won the regard of all who knew him. As an intrepid self­sacrificing missionary his name is still in honor in the vast districts he had to traverse." (Magri, p. 65).
_______________

*This history of Staunton's Catholic parish is taken from A History of St. Francis of Assisi Parish, Staunton, Virginia: Celebrating 150 Years, 1845-1995 by Hampton H. Hairfield, Jr., Elizabeth M. Hairfield, and Jane E. Smith (published in 1995) and used with permission.
top of page