Ministries: Prayer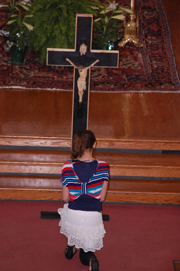 St. Francis offers many opportunities for prayer, from individual in the adoration chapel to communal at Mass and in various parish groups.
To contact the coordinator of each ministry listed below, login to (or sign up for) Flocknote. Contact information is also available from the parish office by email or phone at 540-886-2262.
Adoration of the Blessed Sacrament: Parishioners are invited to spend time with Our Lord present in the Eucharist. More information is available. Ministry Coordinator: Greg Ridenour.
Earthen Vessels: Women of the parish meet in Assisi Hall for prayer, spiritual study, and fellowship. Schedule to be announced. Ministry Coordinator: Elaine Taetzsch.
Men of St. Joseph: Men meet at 6:30 a.m. each Tuesday in St. Clare House to discuss scripture and other readings to strengthen their roles as Christian men. Ministry Coordinator: John Peduto.
Ministry of Praise: Pray daily for needs of the parish, including the sick and the deceased, and for the intentions of the Pope. Pray at home at your convenience. There is a monthly newsletter. Ministry Coordinator: Teresa Hopkins.
Prayer Hotline: Pray at home for immediate and critical needs. Volunteers will be notified by phone or email. Ministry Coordinator: Ron and Mary Jo Fornadel.
Shepherds of Christ: Prayer group meeting Thursdays 7-8 p.m. in the Adoration Chapel. All are invited to follow St. Francis of Assisi in hearing God's word to "build my church." We have rebuilt the standing church; now join us in rebuilding the spiritual church every week. We pray for priests, our parish, our families, and the world. Ministry Coordinator: Debbie Wright.